XTROVAC 100 Rechargeable Spa Vacuum Essential Kit (2023 New)
Sale price
$79.00 USD
Regular price
$94.00 USD
Unit price
per
Sale
Sold out
You Save: $15.00 (16%)
• ALL-IN-ONE SPA MAINTENANCE: Rechargeable Spa Vacuum with soft bristles vacuum head - Brush, Scrub, and Vacuum all at once. This spa kit also comes with a skimmer net, spa scrubber, and spa brush.

• CORDLESS: No more messy hoses and cords. The USB rechargeable battery-operated spa cleaner vacuum gives you about 30 minutes of cleaning per charge so you can pick up debris from your spa with ease. Clean faster and save time.

• SMALL, LIGHT WEIGHTED, AND PORTABLE: Weigh only 1.5 lbs. Xtrovac 100 is among the lightest handheld spa vacuums on the market. You can easily pull up small debris and clean your spa easier than ever. No more muscle fatigue!

• GET IT KOKIDO CLEAN: Lightweight, easy-to-use pool vacuums, accessories, and supplies from Kokido. Kokido gives you the best underwater cleaning in a simple-to-use package. No matter what you need, we're here for you!
4 interest-free payments of $19.75 USD
Buy what you love and split the cost. It's easy and interest-free.
Add item(s) to your cart

Go to checkout and choose

Enter your debit or credit card information

Your first payment is taken when the order is processed and the remaining 3 are automatically taken every two weeks
See payment terms. A higher initial payment may be required for some consumers. CA residents: Loans made or arranged pursuant to a California Finance Lenders Law license.
Close
✕
100% Satisfaction
FREE Shipping (U.S. Mainland Address only)
Money-back return within 45 days of delivery.
1-year limited warranty cover all parts
1-month warranty extension after product registration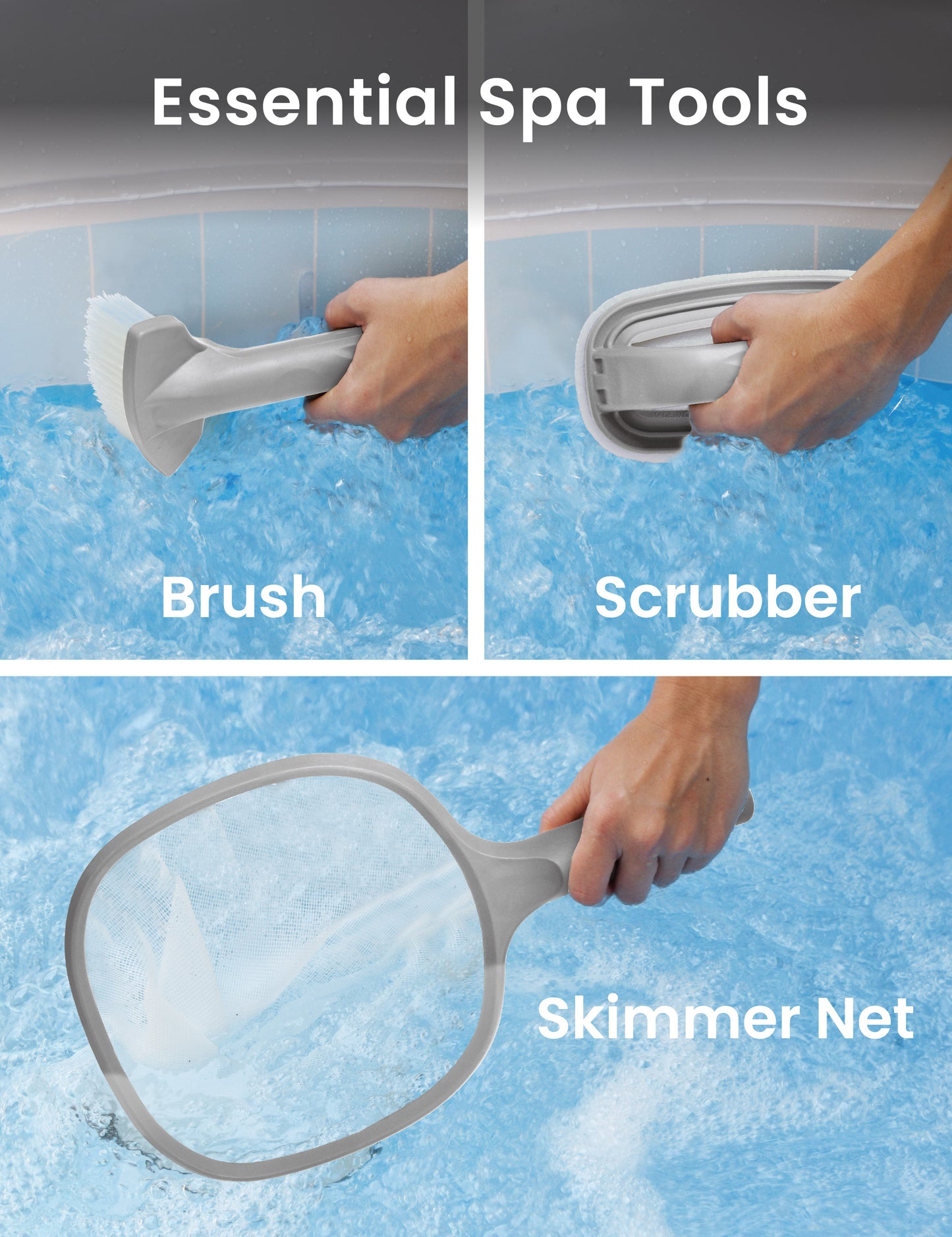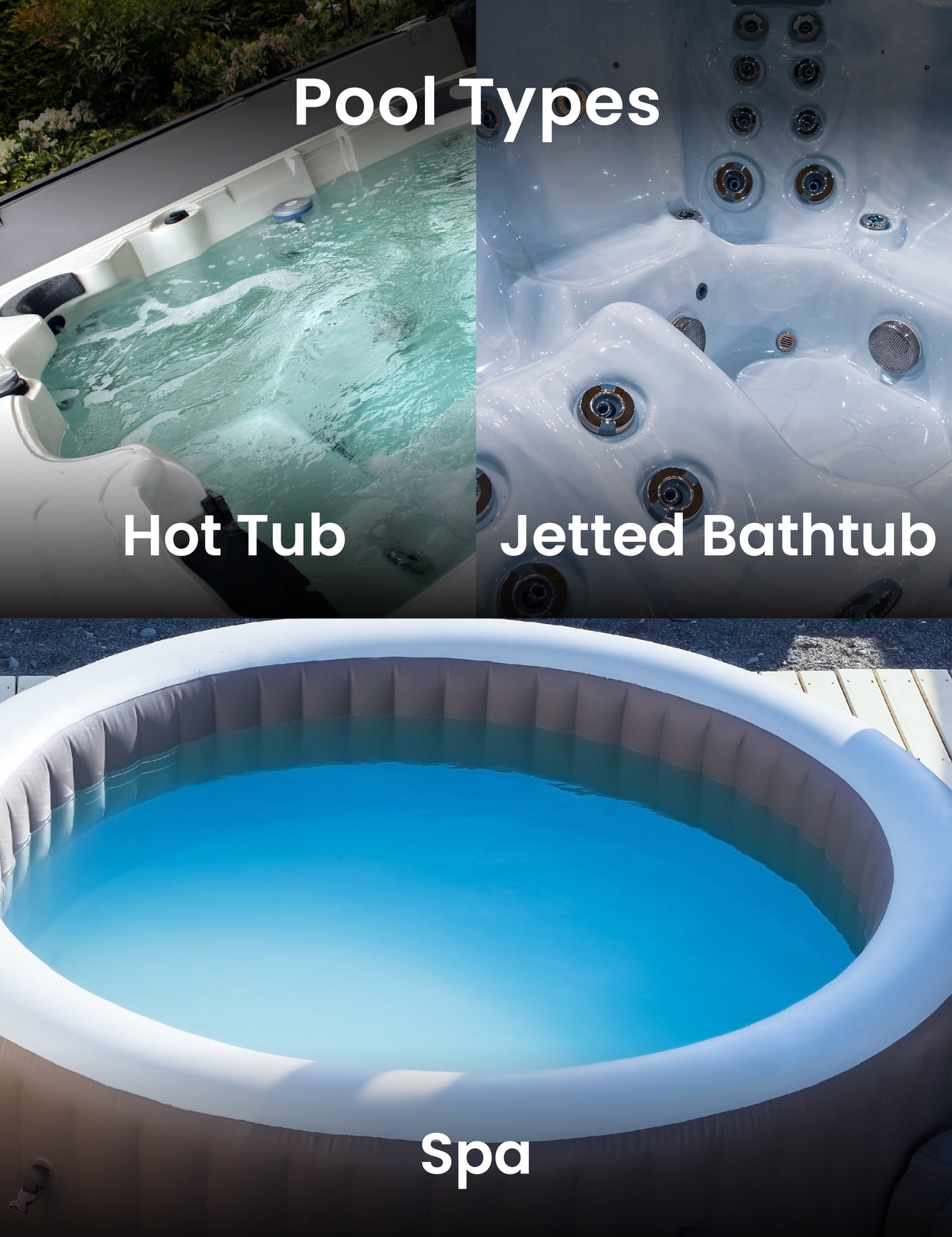 Overview

Videos

Specifications

Reviews

Support
Videos
Your browser doesn't support this video
Which is the Best for You?
Please select any one of the following products
Price
Model
Product Type
Ideal Pool Size
Pool Type
Pool Shape
Recommend Use
Cleaning Coverage
Range
Suction
Debris Capacity
Max Debris Size
Filtration
Weight
Cordless
Natvigation
Cleaning Head Type
Pool Pole / Reach
Pole Connector
Warranty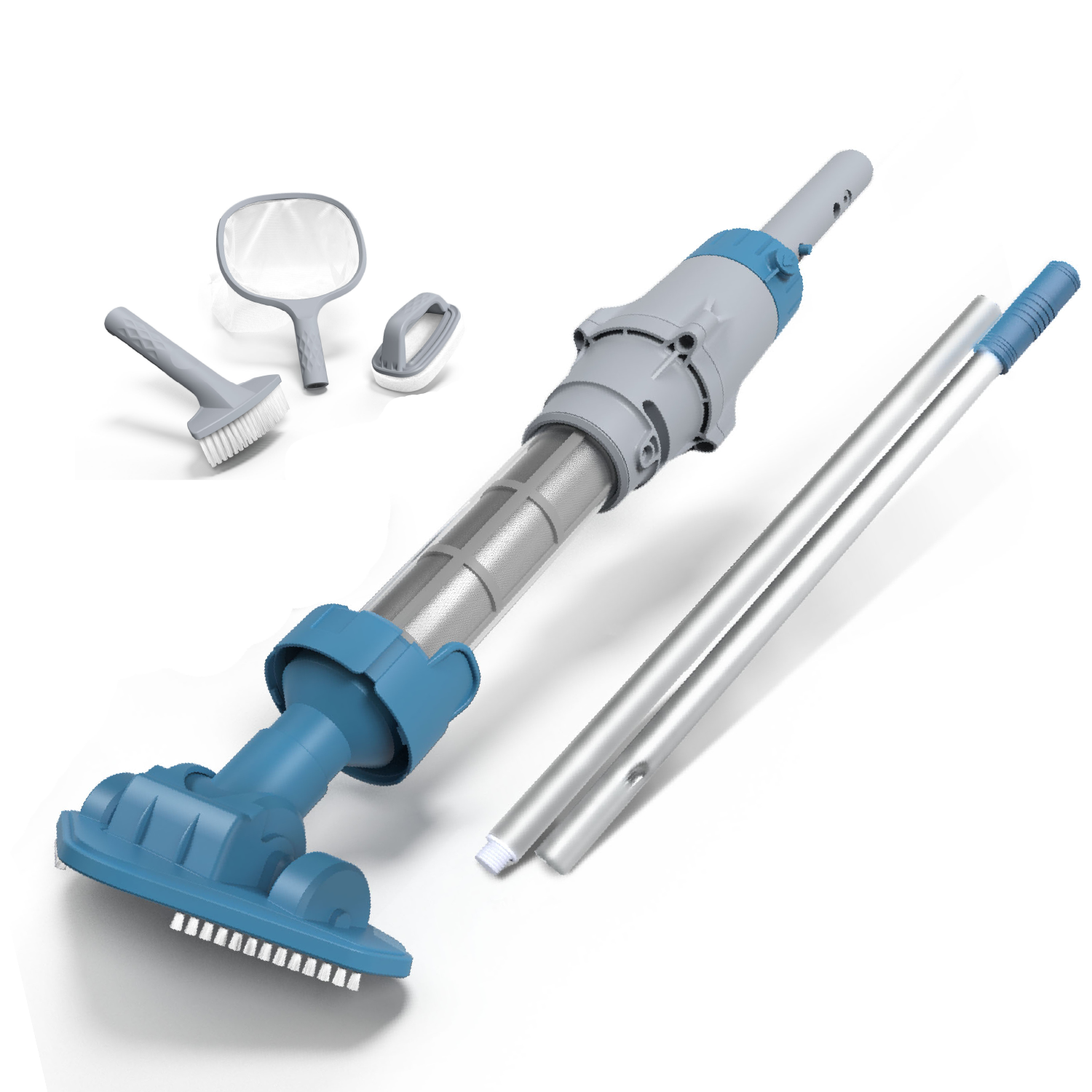 $79.00
XTROVAC 100 SPA KIT
Rechargeable Pool Vacuum Kit
Spas
Spas, Hot Tubs, Jetted Bathtubs
Rectangular / Irregular
Light Duty Spa Cleaning
Whole Spa
n/a
4.8 Gal/min
0.03 Gal
3 inches
All Purpose (250 micron)
1.50 lbs
✓
n/a
Pivoting Vacuum Head
2x50cm Aluminum 2-Section Pole
✓
12 months
$119.00
XTROJET 220
Cordless Robotic Pool Vacuum
small to medium up to 16ft in diameter
Above-Ground Pools, Inground Pools
Retangular / Irregular
All Purpose Light Duty
Floor
2950 ft
16 Gal/min (Power rating: 8 stars)
0.6 Gal
5 inches width
All Purpose 250 micron
5.81 lbs
✓
Random
Suction cleaning
n/a
n/a
12 months
$169.00
XTROJET 320
Cordless Robotic Pool Vacuum
medium pools up to 24ft in diameter
Above-Ground Pools, Inground Pools
Retangular / Irregular
All Purpose Medium Duty
Floor
4430 ft
19 Gal/min (Power rating: 9 stars)
1 Gal
5 inches width
All Purpose 250 micron
8.25 lbs
✓
Random
Suction cleaning
n/a
n/a
12 months
$79.00
XTROVAC 110
Rechargeable Pool Vacuum
Small (up to 15ft in diameter)
Spas, Hot Tubs, Above-Ground Pools, Inground Pools
Rectangular / Irregular
All Purpose Light Duty
Spot Cleaning (Pool Floor & Stairs)
n/a
8 Gal/min
0.11 Gal
3 inches
All Purpose (250 micron)
2.58 lbs
✓
n/a
1. Pivoting Head 2. Flat Brushes
5x40cm Aluminum Section Pole (Adjustable 1.3, 2.6, 3.9, 5.3, 5.9 ft)
✓
12 months
$199.00
XTROVAC 910
Rechargeable Pool Vacuum
Medium to Large
Above-Ground Pools, Inground Pools
Rectangular / Irregular
Leaf and Sand Collection, Extra Large Capacity
Pool Floor & Steps Cleaning
n/a
61.5 Gal/min
1.72 Gal
8 inches
2 External Filter Bags with Foam (250 micron & 75 micron)
5 lbs
✓
n/a
Uni-body Direct Suction Head with Scrubbing Brushes and Removable Extensions
Pole Not Included
✓
12 months
$129.00
XTROVAC 410
Rechargeable Pool Vacuum
Small to Medium
Above-Ground Pools, Inground Pools
Rectangular / Irregular
Leaf Collection High Capacity
Spot Cleaning (Pool Floor & Stairs)
n/a
30 Gal/min
1.72 Gal
8 inches
External Filter Bag with Foam (250 micron)
2.20 lbs
✓
n/a
Uni-body Direct Suction Head with Scrubbing Brushes
Aluminum 5-Section Pole Included
✓
12 months
$99.00
XTROVAC 70
Hydraulic Pool Cleaners
small to medium up to 20ft in diameter
Above-Ground Pools only
Retangular / Irregular
General
Floor
n/a
recommend pump power over 50W
n/a
4 inches width
Filtration at Pump
6.97 lbs
Connect to Pump
Random
Suction cleaning
n/a
n/a
12 months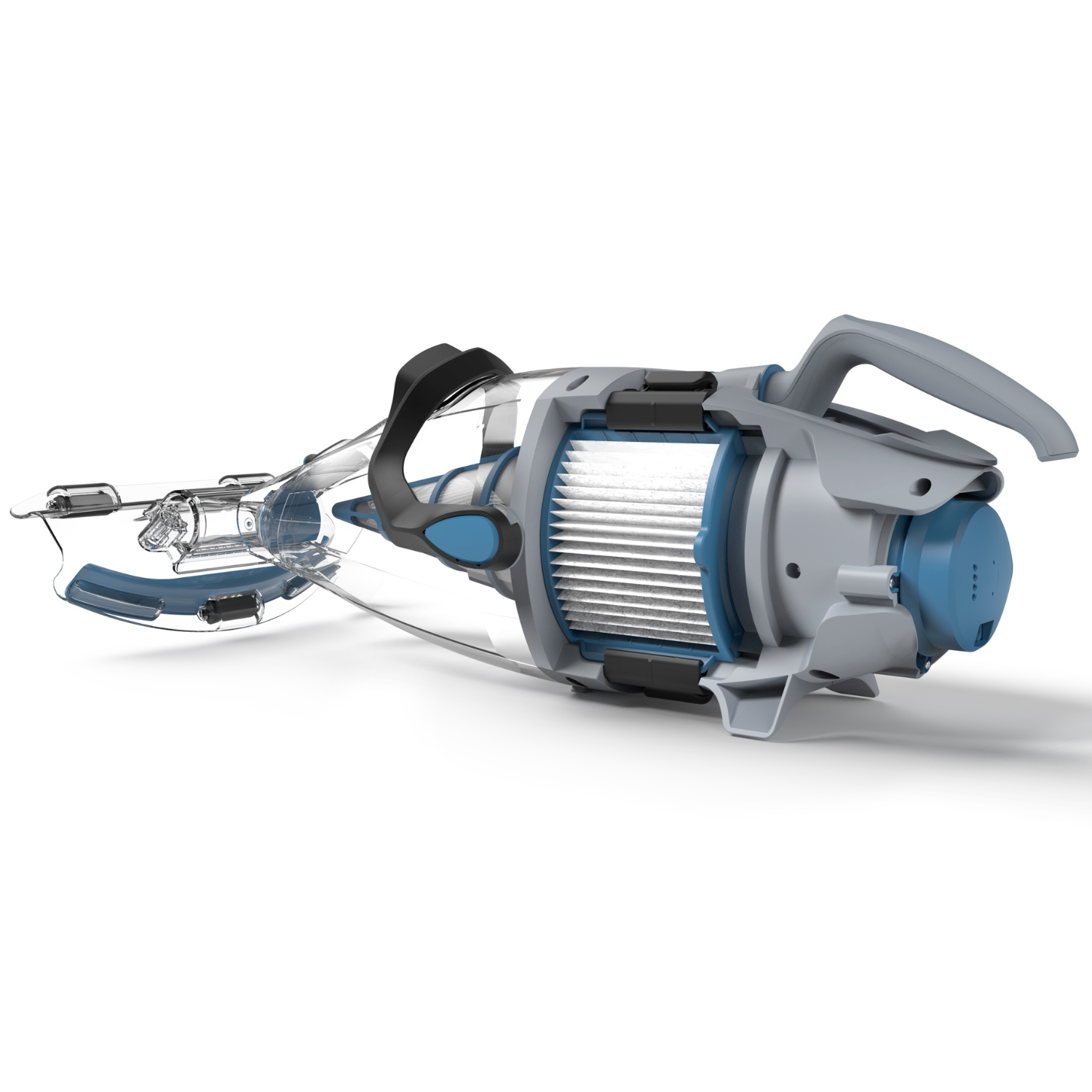 $269.00
XTROVAC 710
Rechargeable Pool Vacuum
Medium to Large
Above-Ground Pools, Inground Pools
Rectangular / Irregular
Leaf and Sand Collection, High Capacity
Pool Floor Cleaning
n/a
19.8 Gal/min
0.79 Gal
5 inches
Stainless Steel Filter Cone (250 micron), 2 Fine Cartridge Filters (50 micron)
6.5 lbs
✓
n/a
Transparent Suction Head with Scrubbing Brushes
Pole Not Included
✓
12 months